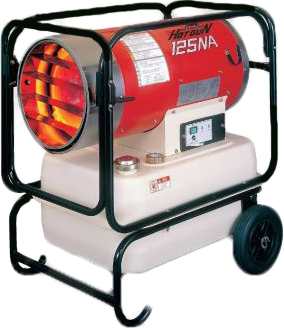 Are you searching for a solution to keep yourself and co-workers warm and comfortable during colder weather?  If so, SafeWash Technologies can help you with your heating needs.  As the warm sunny days of summer start to fade and the temperatures drop as fall and winter approach, it can get cold in the Bronx, Yonkers, Mt. Vernon, NY, Kearny, NJ, Danbury, Norwalk, CT, and the surrounding areas.
To warm the cold air, we offer a variety of heating solutions, such as salamander heaters and salamander furnaces.
Salamander Heaters and Salamander Furnaces
A salamander heater or a salamander furnace is a great piece of equipment to solve many of your heating needs.  A salamander heater is a portable device that uses a flame to produce heat.  The warmth produced by the flame is pushed out by a fan into the room that you want to be heated.  It is a good temporary solution to warm a cold area because it is portable, affordable, and easy to set up.  There is no electrical wiring involved, as a salamander uses propane as fuel.  Some units are lightweight and easy to position.  A salamander heater can be set up in the cool section of the room that needs to be heated.  Many people opt for salamanders to warm areas such as their garage, warehouse, campsite, and construction site.
Because a salamander heater uses a flame as the heating element, it needs to be placed in a well-ventilated area.  The outside casing of the unit itself can be hot to the touch due to the heat source of the flame.  Care is needed not to place anything that is sensitive to heat near the salamander heater, as there is a chance the item may melt or catch on fire if it is placed too close to the unit.
Temporary Heating System Solutions
When it comes to your temporary heating system solutions, there are many options.  There are several factors to consider when you are making the decision of what is the best choice that will meet your needs.  The best choice for you is based on the area you need to warm, the budget, and portability needs.  A salamander heater, also known as a torpedo heater, is a great option to add warmth for people residing in the Bronx, Yonkers, Mt. Vernon, Kearny, NJ, Danbury, Norwalk, CT, NYC, Brooklyn, Queens, Bridgeport, White Plains, NY and Stamford.