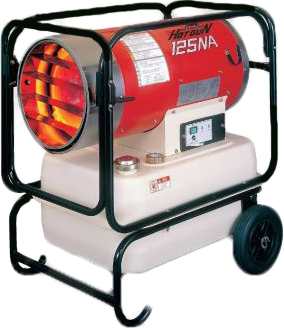 Do you own or manage a business in the NY, NJ, or CT area where your team is exposed to cold air?  If so, torpedo heaters and furnaces, along with propane and kerosene heaters, are a good solution to keeping your team comfortable.  The spring and fall months can be quite cool in the NY, NJ and CT area.
In the winter, it can get extremely cold.  For workers who spend the day in warehouses, factories, automobile repair service bays or on construction sites, a torpedo heater can make all of the difference in the world.  It will warm up the workspace and make it a more pleasant work environment.  Considering the typical cold weather in the area, torpedo heaters can definitely benefit workers in NYC, Brooklyn, Queens, White Plains, NY, Stamford, CT, and Kearny, NJ.
Torpedo Heaters and Torpedo Furnaces
Torpedo heaters and torpedo furnaces are also sometimes called bullet heaters.  They are an excellent choice for a heating solution because of their many benefits.  A torpedo heater allows the user to point the heated air in a specific direction.  The heat blast covers a large area, while the unit itself stays cool to the touch.  Another important feature is that they are portable.  They are very easy to move and set up.  Depending on the design and model, some of them can be carried and even have a handle.  They are durable and most come with a warranty.
Propane and Kerosene Forced Air Heaters
Many people who live and work in NYC, Brooklyn, Queens, the Bronx and in the surrounding areas of NJ and CT,  choose the option of using a propane or kerosene forced air heater when they need to warm an area.  These are good options when there is not easy access to a power outlet.  If there is not a convenient or accessible outlet to plug in a heater, propane or kerosene air heaters are a great option.  As some models do not need an electric supply, they are easier to position, since you are not limited to set up near an outlet.  It is a quick and easy fix to warm up a cold area.  Torpedo heaters, also known as salamander heaters, are great tools to have for your business to keep your team cozy warm during the colder months.  We know the weather gets cold in the Bronx, Yonkers, Bridgeport, Norwalk, Danbury and Mt Vernon.  At SafeWash Technologies, we can help you with your heating solution to keep you and your team comfortable and productive year-round.