Pressure Washing Cleaning Tips
Hot vs Cold Water Pressure Cleaning
Not all pressure washers are created equal. In fact, they fall into two distinct categories: Hot or Cold.
Let's review. You know the difference between:
• Hot and Cold High Pressure Washers
• Indoors and Outdoors High Pressure Washers
• Portable and Stationary High Pressure Washers
• Belt-Drive and Direct-Drive High Pressure Washers
• Gasoline, Diesel, Electric, Natural Gas, and Propane High Pressure Washers
How to Choose A High-Pressure Washer
Never purchased a pressure washer before?
Make sure to know the difference between:
• Hot and Cold High Pressure Washers
• Indoors and Outdoors High Pressure Washers
• Portable and Stationary High Pressure Washers
• Belt-Drive and Direct-Drive High Pressure Washers
• Gasoline, Diesel, Electric, Natural Gas, and Propane High Pressure Washers
We have developed some hard and fast rules for the pressure washing industry based on over 25 years of research. While contacting your local LANDA dealer is the best way to get the information you need on cleaning and cleaning products, LANDA created a variety of information sheets on specific topics that customers should know about pressure washers.
Choosing a Nozzle Tip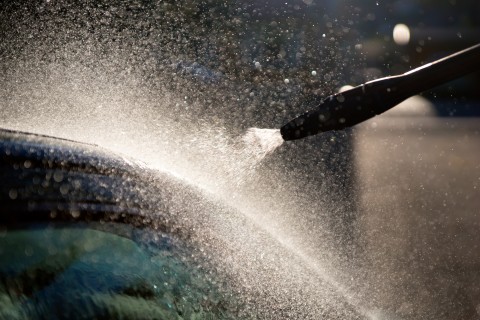 There are many types of nozzles available for pressure washing, and they vary greatly in quality. At A-1 Hydro – SafeWash Technologies, we sell only top quality nozzles, ensuring your value, the long life of your system, and reliability.
When selecting nozzle tips, use caution. Many of the discount brands do not allow the water to spray over the entire width of your impact. The better brands will have the same impact at the ends as they do close to the center. You work more efficiently. That's smarter, not harder. Another aspect of quality to consider is the hardness of the nozzle. As water flows through the orifice, it erodes the metal in it. As the hole opens up, it decreases the pressure of the pressure washer. A higher quality nozzle erodes less than their discount counterparts, making replacement sooner necessary.
Standard spray nozzles come in two types, meg (threaded) and quickconnect nozzles. While the quickconnect will offer you ease of changing or cleaning nozzles, the threaded type will offer more security. The quick connector can become disconnected when jammed against a surface, leading to potential loss of time, equipment damage, and is a safety hazard for people near the disconnected, high-pressure nozzle. The threaded nozzle is less convenient, but will not come dislodged if jammed on a surface. It is important to think about which nozzle will work for your application. Sometimes you may want to have both sets.
More than just pretty colored accessories for your pressure washer, nozzles serve an important purpose in determining the optimum pressure and water volume for your pressure washing system. They have a small orifice, which creates restriction in the water flow, is sized to create the desired pressure at a specific flow. Pressure washer nozzles with an orifice that is most closely sized to the specs of your pump will give you the optimum performance.
Nozzles come in different spray angles, depending on your need, and are color coded for quick reference: 0, 15, 25 and 40 degrees, corresponding to the angle at which the water impacts the surface. Zero-degree nozzles hit the surface in a pinpoint pattern, and are best used when you need maximum impact on the surface; 15-degree nozzles are good for gum removal from sidewalks and slicing dirt accumulations from engines and undercarriages; 25-degree nozzles are effective for truck and vehicle washing; and 40-degree nozzles will be most effective nozzle for flushing large, flat surfaces like tractor-trailers. Rotary nozzles have the impact of 0-degree nozzle with the width of a 25-degree nozzle, giving you maximum debris removal over a large area, best and most safely used on hard surfaces like concrete, granite, and heavy duty metals. Long distance nozzles hold the water stream together for longer distances and are effective at apply detergents. They can be used to remove debris, like spider webs, in hard to reach places.
Call A-1 Hydro – SafeWash Technologies today for all your pressure washing nozzle needs. Our knowledgeable and trustworthy staff can help you pick the perfect nozzles for your system and your cleaning job. Let us prove why we're your one-stop resource for all your pressure washing needs.