Custom Portable Pressure Washer Systems: Design, Installation & Mounting, Custom Powerwash Trailers, Powerwashing Station Design And Operational Set-Up In White Plains, Orange County & Yonkers, all of NY And surrounding areas.
Our trailers are designed for pressure washer systems and include adjustable hitches, multi-level jack-stands, protected rear & side lights, and more.
Custom Pressure Washer Systems Design Installation & Mounting
Whether you're in the pressure-cleaning business or your commercial operation requires powerwashers to clean and maintain your vehicles and equipment, it's essential that you choose the right unit for the job. If your business takes you on the go, you need to make sure that your pressure washer is properly mounted to your truck, trailer, or inside your box truck or van and works with maximum efficiency and minimum downtime.
Our portable pressure washer systems can be permanently mounted in a vehicle or as a powerwash trailer system so that you can easily bring it to remote jobs. Our custom designed systems can be mounted to a structure to create a truck, train, or car washing station for your vehicles and equipment, or placed on a cart so that they can be wheeled about your facility, eliminating the manual lugging around and standard movement use difficulties.
Image caption: Portable washing station on a janitor's cart in a public exhibition area, used to clean food areas.
He or she just pushes cart the out, everything is already on one cart. There is an auto shut off if low on water.  Everything you need on one cart including overheat prevention.
The Right Pressure Washer For The Job
We offer a variety of units in a wide assortment of physical weights and dimensions, pressure ranges, and flow rates. We can custom fit or mount our pressure washers to the vehicle that you have available. Whether you're a handyman, home-improvement specialist, contractor or maintenance manager, you know the value of having a ready-to-use mounted pressure washer to take with you on your jobs.Our pressure washers have a multiple number of commercial uses, including the removal of dust, dirt, mold, debris, and for vehicles, removal of salt, and most chemical residues that can damage finishes or accelerate oxidization,vehicle undercarriage cleaning, and salt corrosion prevention.
Pressure Washing And Cleaning Authorities For Businesses in and around White Plains, Orange County, Yonkers, and all of NY
Located in Mount Vernon, New York, A-1 Hydro – SafeWash Technologies is the premier custom pressure washer sales and installation outfit in the Northeast. If your business requires stationary or portable pressure washer systems, contact one of our representatives to discuss a custom designed unit that fits your budget and meets your needs.
Below are some of our A-1 Hydro – SafeWash Technologies custom portable powerwasher trailer system questions and solutions.
Custom Solutions To Common Questions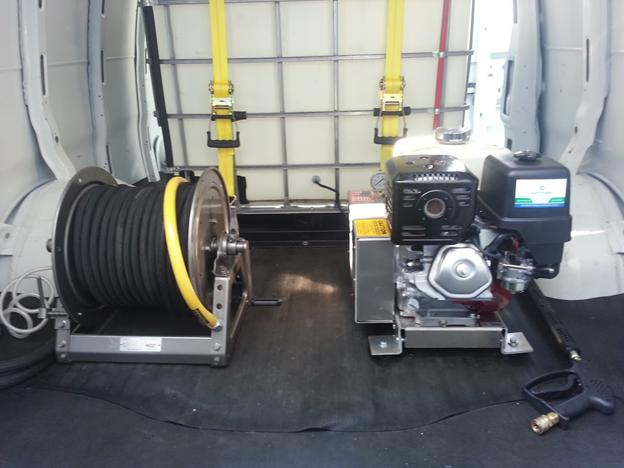 This is the inside of a truck we fitted that is used for house and truck washing. It contains a large capacity soap tank for less refills, hot water power washer, a heavy duty, extra-long hose, safety overflow cutoff, auto shutdown and more for long lasting, safe and economical use.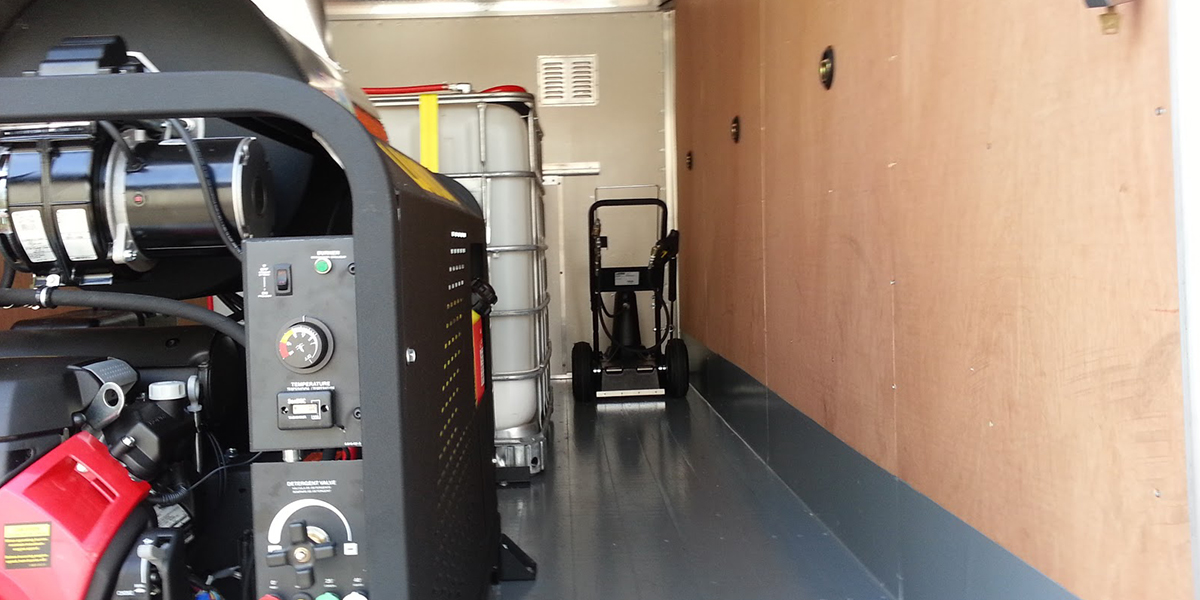 This is the inside of a large Box Truck we fitted for safety and easy access at the job. You can stand at the back of truck and turn on the unit's engine & heat. The hoses pull out so you don't need to climb in. We created a custom roof vent for heat release.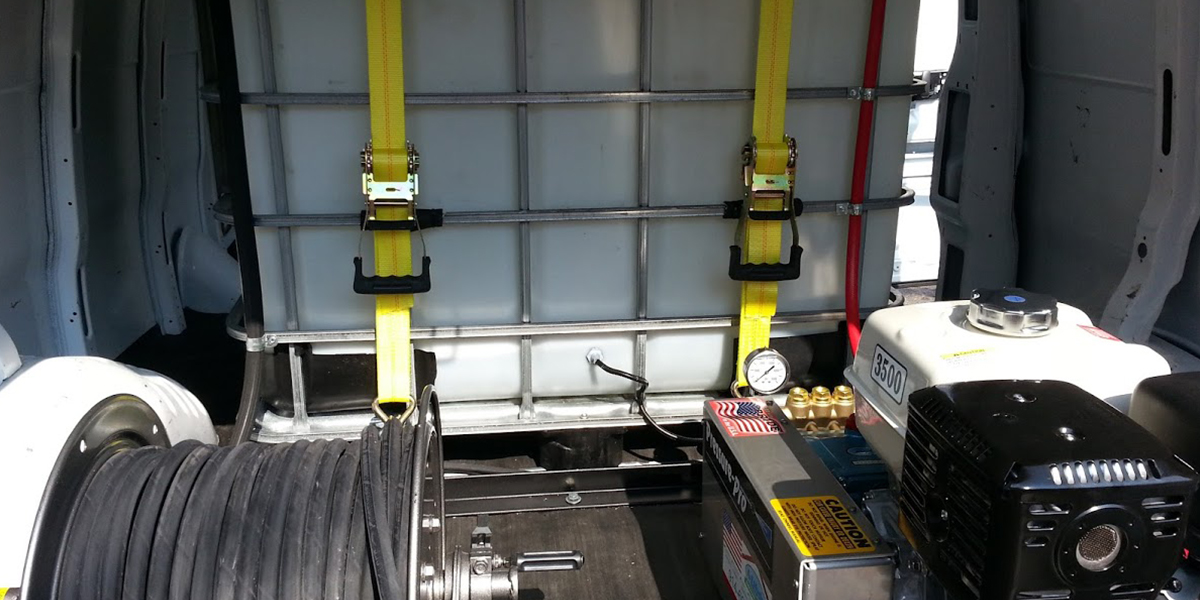 Safety: The auto shutoff level switch we add shuts off when water goes down too low.
Efficiency: We install a cool bypass to prevent overheating: The quick explanation is the hose we add. When you let go of the trigger, the water that's in the pump goes out through the hose and into the tank, so the seals never heat up and wear longer. This allows you to let the pump run all day instead of shutting every 10 minutes or so.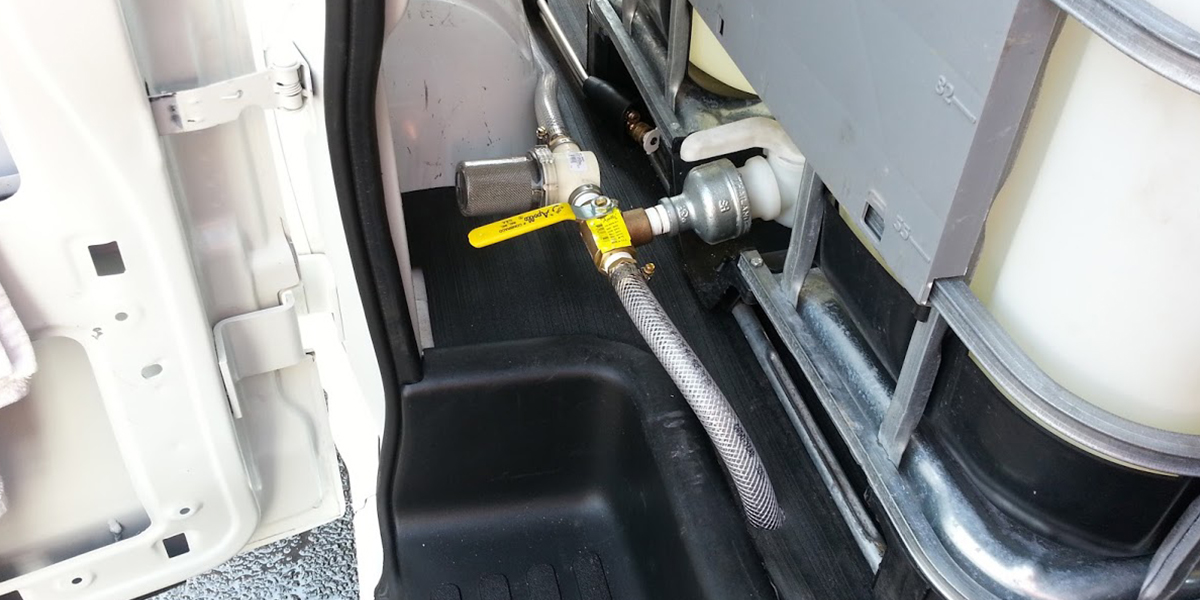 Clean water for a cleaner job:
Where the water comes out of the tank, we add a cleanable filter to trap particles and other debris.
Additional drain & water outlet underneath: The line becomes a drain that the valve can be opened for.  Or you wash up by opening the valve and place your hands under the tank.  Good for being in odd places like a construction site.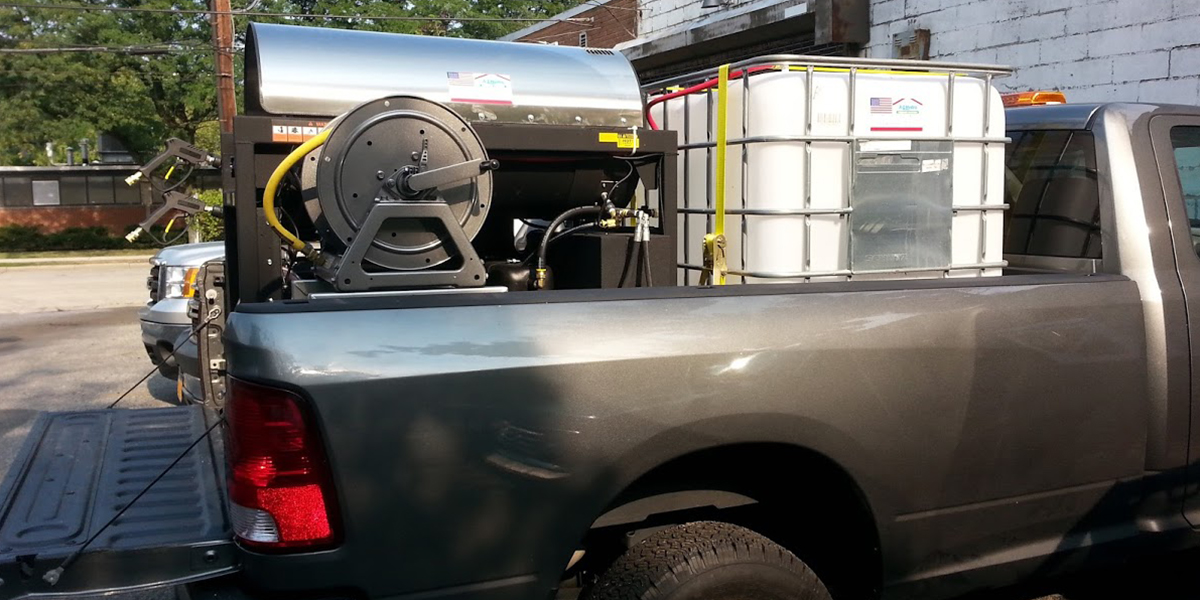 The back of this pickup truck has tank, huge pressure washer, hose reels and water tank.
It runs at 8 gallons per minute, and generates hotwater. Our client needed this equipment to fit in a pre-purchased truck and we did it.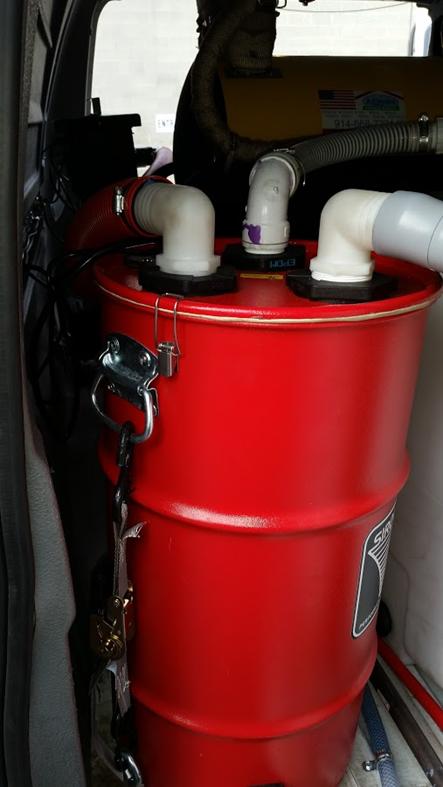 We can equip your system with a water recovery tank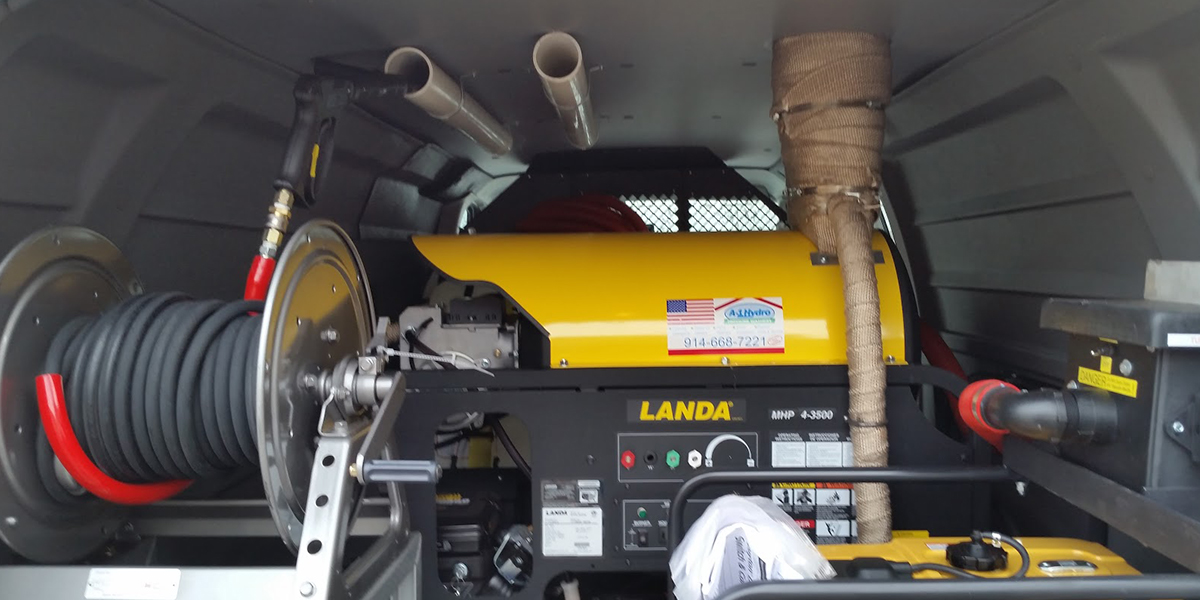 Every job is different and we would discuss your specific requirements before making a recommendation.  This van was equipped with a pressure washer, soap / water tank, waste water tank, vacuum system to pick up waste water, water recovery tank, hose reels, and a generator to run the system.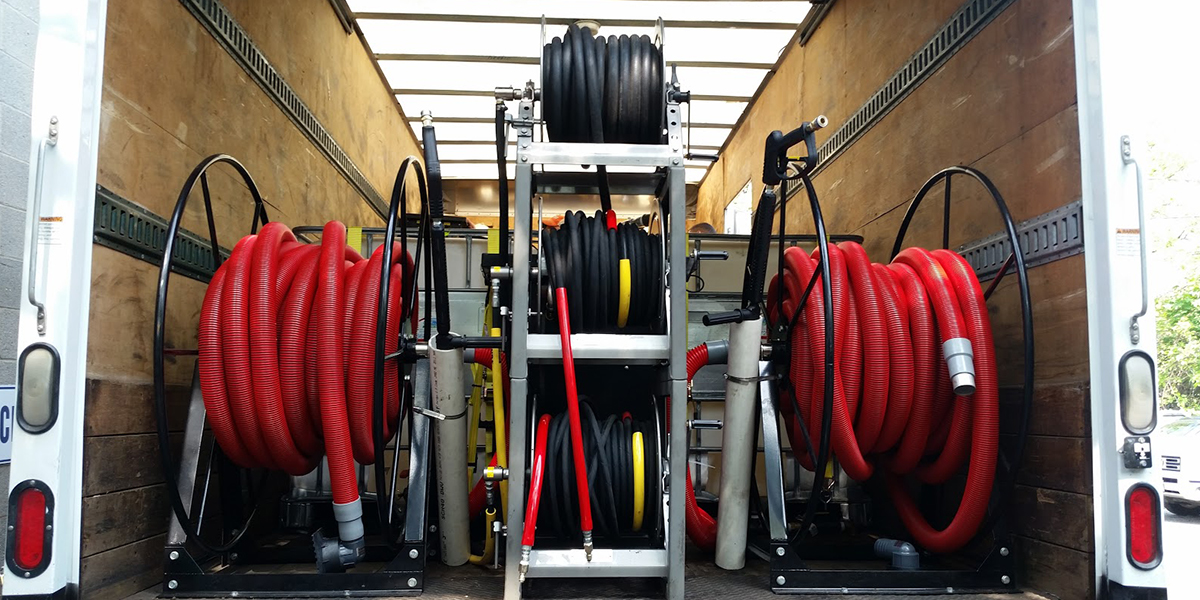 This unit contains 2 pressure washers, 2 water tanks, 2 water recovery tanks, water recovery system, hose reels, and a generator to run everything.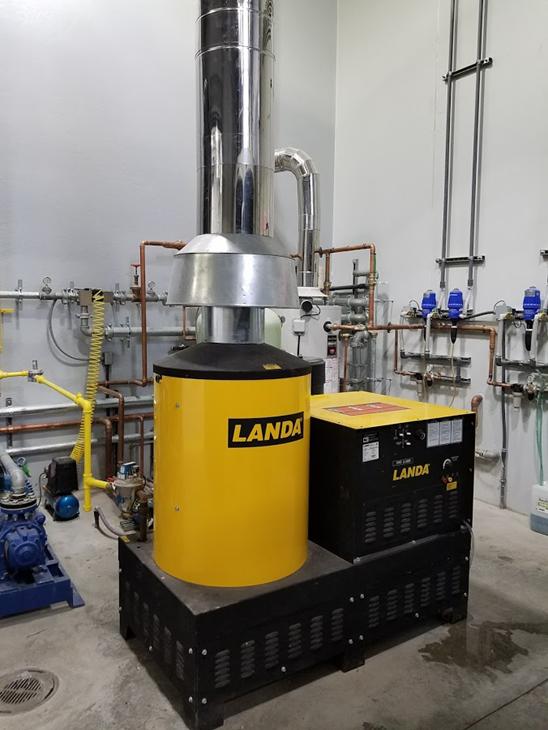 A pressure washing station does not have to take up a lot of room.  This is part of an equipment room and used for the truck wash bay in the company's washing station.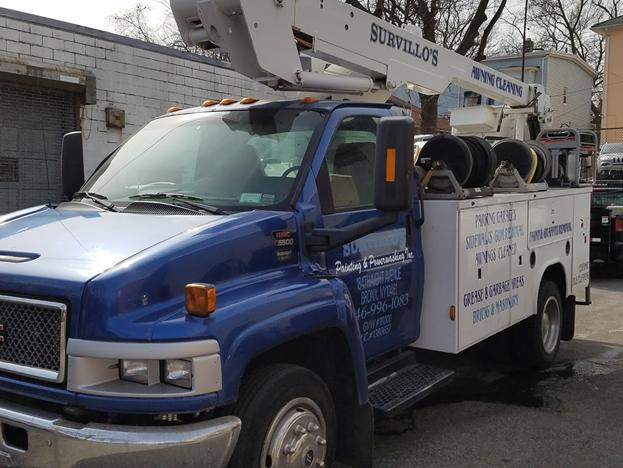 We were able to fit this boom truck with a pressure washer that can be taken up in the bucket and wash from high areas.
---
Other Questions
Why should I mount a pressure cleaner in or near a building?
If you have a vehicle or fleet that requires routine maintenance, you can create a pressure washing station for your employees to wash down their trucks and other equipment. Mounting a pressure cleaner to a building means that it will always be in the same place when your workers use it.
How do I know what kind of pressure washer to buy?
Once you tell us what your needs are, we can help you select a pressure cleaner with the appropriate specs for your use and assist you in determining where and how it should be mounted for maximum utility.
Contact us to see how we can create a profitable solution for your business.