Pressure Washers, Industrial Cleaners, Power Washers, Pressure Washer Soap and Detergent Power Washing Equipment, Hot Water Power Washer, Karcher and Landa Pressure Washers in NYC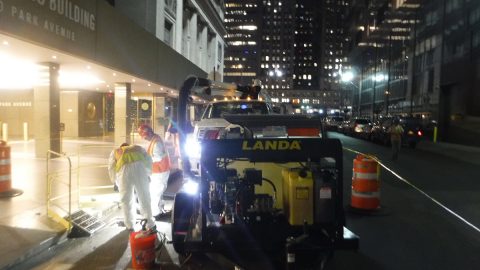 With more than 8.4 million people living and working in New York City, it doesn't take very long for things to get dirty. When you are dealing with a global city like New York, proper sanitation is about more than keeping things looking and smelling clean. It plays a vital role in disease prevention. So, when you need pressure washers and commercial detergent, don't trust your needs to just anyone. Come to the power washing equipment experts at SafeWash Technologies! As a global leader providing state-of-the-art power washers and industrial cleaner, we understand the demands of your NYC facility, and we can provide you with everything you need to keep your business clean from top to bottom!
Pressure Washer Soap and Power Washing Equipment for New York City
What makes SafeWash Technologies unique? Not only are we your source for all of the top equipment, including Landa power washers, Karcher power washers and related parts and accessories, but we have are committed to providing businesses and agencies throughout New York City with the strongest, eco-friendly pressure washer detergent and industrial cleaners on the market. Our pressure washer cleaner and commercial detergents, are free from NPEs that can poison the local ecosystem and potentially harm your employees and customers. In fact, we are proud to have received Champion Status from the EPA. So, you can be confident that the power washer cleaners we provide are the finest, most 'Green' products on the market.
Commercial Power Washers for NYC
Whether you are cleaning subway stations for the G Train, a health club in Manhattan, a restaurant in Soho or the lobby of the Plaza Hotel, A-1 Hydro – SafeWash Technologies is New York City's premier source for pressure washing equipment and power wash detergent. All of our detergents are eco-friendly, effective and specially formulated for a variety of uses. We don't just sell power washer soap; we have products uniquely designed for cleaning restaurants, industrial service fleets, buildings & grounds, and anything else you need to clean. Our experienced and dedicated staff has in-depth knowledge of all the equipment and detergents we sell, and we will be happy to discuss which of our environmentally sound cleaning products will work best for your particular application. We know you want the best for your NYC business, and A-1 Hydro – SafeWash Technologies has the perfect solution to any commercial cleaning challenge! So the next time you need power washer detergent, eco-friendly specialty cleaners or pressure washing equipment, SafeWash Technologies is the only name you need to know! We are pleased to provide our products and services to customers throughout NYC. Let us put our service and expertise to work for you!