It's no secret that 2020 has been difficult for individuals and businesses across the globe. With the Coronavirus pandemic sweeping the nations, businesses have had to tighten the reins on safety precautions and improve procedures to ensure the security of employees and clients.
Businesses in New York are no stranger to tight COVID-19 restrictions. With the widespread presence of the virus in the state, business owners and operators have a responsibility to keep their businesses safe and secure.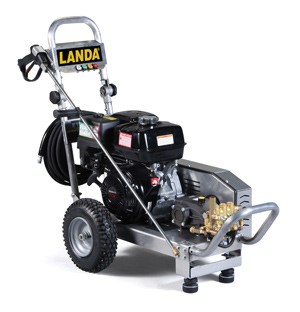 Did you know that your shoes can be carriers of disease and viruses that can compromise your health? Cleaning surfaces thoroughly can ensure that no harmful microbes are tracked indoors to keep your business safe!
Commercial power washers are an effective and powerful disinfection tool that businesses can use to clean surfaces and wipe out germs. When combined with virus-killing agents, you can completely wash away microorganisms and keep the structural integrity of your roof and other outdoor spaces in-tact.
If your New York business doesn't have a power washer, now's the time to invest! With options in hot & cold pressure washers, gas & electric power washers, light-duty & heavy-duty commercial power washers, etc. there's a pressure washer that can meet all your needs!
With no end to the COVID-19 pandemic in sight, smart businesses are investing in power washer technology. So what are you waiting for? Kick-off 2021 the right way with a commercial pressure washer!
Since 1940 we've been providing detergent innovations and cleaning technology, such as power washers, to businesses in NYC, Bronx, Medford, Nassau, Queens, NY, and the surrounding areas. By staying current with the sanitization demands, we are proud to offer your business the most innovative and powerful cleaning technology on the market.
From electric power washers, gas power washers, and more, we help you find exactly what you need to fit your cleaning demands and budget. Call us today at 914-668-7220 to learn more about our commercial power washer options.