Using a pressure washer on your larger equipment, buildings, and other surfaces can help turn a large task into a smaller job. That's what makes pressure washers an in-demand tool in Nassau, Norwalk, Suffolk, Stamford, Danbury, Brooklyn, and the surrounding areas. But you can amp up the effectiveness of your pressure washer by using the right pressure washer soap. From degreasing your tools and heavy equipment to breaking down organic matter and more, the pressure washer soaps from A-1 Hydro, Inc. / Safe Wash Technologies will enhance your cleaning duties. Contact us to learn more.
Pressure Washer Soaps for All Tasks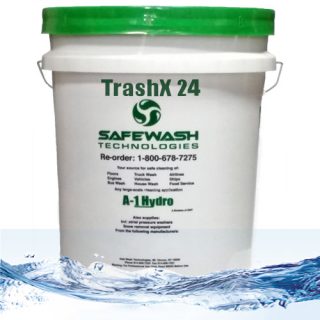 We have a range of soaps that are perfect for the different cleaning tasks that you will encounter. Our Gutter Clean soap, for example, is designed for use on the outsides of buildings, gutters, metal window and door frames, and more. This soap helps to remove black streaks, mildew stains, dirt, and more. This is a great option for building maintenance crews to use periodically to keep the exterior of buildings looking their best.
Durasolve is designed for the paving industry where asphalt is used regularly. As an oil-based product, asphalt is great for roadways, driveways, and more, however it can be sticky, gooey, and otherwise be a pain to deal with when cleaning. Durasolve helps to cut through the chemicals that bind asphalt to tools, equipment, and more.
In some cases, the equipment that is used can get quite stinky from garbage of different kinds. Our TrashX 24 pressure washer soap helps to not only clean out the various organic materials from handling and holding garbage but also provides a deodorizing effect to cut through the smell and provide a better-smelling end result.
From Buildings to Machinery to Tools And More
Your organization works hard, and you want to keep your tools and equipment clean and in top working condition. Whatever your machinery is, lookwashing soap can help cut through the dirt and grime to make them look like new again. And your hand tools also need to be kept clean as well, so use it for this equipment as well. We offer a wide range of pressure washing soaps that will make keeping things clean easy in Nassau, Norwalk, Suffolk, Stamford, Danbury, Brooklyn, and the surrounding areas. Not sure what the right cleaner is for your needs? Contact our team at A-1 Hydro, Inc. / Safe Wash Technologies and we'll help you choose the right pressure washer soap for your cleaning tasks. Call us today to learn more.