Landa is the largest manufacturer of industrial hot and cold pressure washers in North America. For the truly powerful and reliable pressure washer, Landa should be on your next list of contenders. Landa has been providing professionals throughout New Jersey with tough, rugged pressure washers for years of dependable use. Landa has the right pressure washer for you for hot water and cold water, reclaiming water and transportable.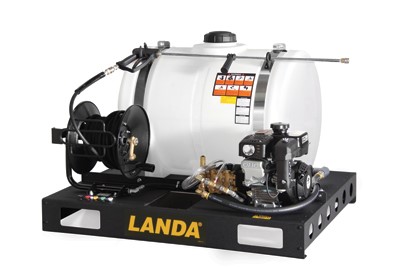 Landa Professional Pressure Washers in New Jersey
Here are some of the benefits of a Landa Pressure Washer for building maintenance and Construction for Kearny, Newark, Elizabeth, NJ, and all other areas of New Jersey.
Building Maintenance in NJ
A Landa pressure washer has benefits beyond keeping sidewalks looking fresh. Landa pressure washers can power through several different hard-to-wash situations that property managers, maintenance supervisors, and building owners face:
Remove graffiti – coming to your building and seeing your facility has been "tagged" is an unwelcome surprise. However, a Landa hot water pressure washer and specialty detergents can remove graffiti easily and quickly.
Restore parking surfaces – bring back the look for a new parking lot or parking garage by washing away dirt, oil spots, and grime.
Product high traffic areas – protect the interior of your building by first protecting the outside foot traffic areas, including sidewalks, parking garage stairs, walkways, and more.
Keep your building presentable – reflect the care and standards of your building for your customers, tenants, and employees.
Construction in New Jersey
Keep a Landa pressure washer on your site to keep your equipment and vehicles clean and help in the construction process without delays.
Concrete forms maintenance – keep your concreate forms clean and ready to use by blasting dried concrete away with a Landa hot water pressure washer.
Quickly clean equipment and vehicles – construction sites contain a magnitude of different debris, environmental contaminants, and more. A Landa pressure washer can quickly and easily remove mud, dirt, oil, and grime with the right cleaner and the right detergent.
Prepare surfaces – get surfaces ready for the new layer of paint, stucco, or just repairing worn surfaces.
Of course, many other industries throughout NJ can benefit from the regular use of a professional-grade Landa pressure washer. Agriculture vehicles, pens, and equipment can stay clean and hygienic. Fleet vehicle maintenance departments can safely and effectively remove road grime and cold weather contaminants. Whatever need you have for effective and high-powered cleaning, there is a Landa pressure washer for your business.
Landa Commercial Pressure Washers in New Jersey
New Jersey is well-known for its industrial past and part in fueling the Industrial Revolution. In fact, New Jersey is the site of the "Big Six" industrial cities of Camden, Paterson, Newark, Trenton, Jersey City, and Elizabeth.