Kärcher commercial and industrial power washers are designed to save time, money, and resources. With many different options to choose from, a Kärcher power washer can fit into any commercial application for customized washer trailers, hot or cold-water washers, and hot water generators. SafeWash can help any business throughout New Jersey with finding the right Kärcher power washer for their needs.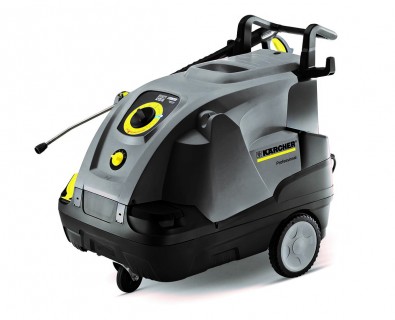 Here are some of the different options in Kärcher power washers:
Coldwater Kärcher power washers – Save money with options in electric, gas, or diesel cold water pressure washers without compromising cleaning power.
Hot water Kärcher power washers – Engineered to tackle the most challenging oil, grease, and grim jobs in your choice of electric, gas, or diesel.
Hot water generators – Designed for on-demand hot water generation for ultimate oil cleaning challenges.
High-pressure cleaners – Higher power for tough cleaning often found in industrial and construction locations.
Pressure washer trailers – Customized for your equipment, location, and specifications to carry your equipment and water tanks.
Kärcher Power Washer in New Jersey
Getting the right Kärcher power washer is an investment in your company's ability to do its business correctly. Different industries throughout NJ use power washers in different ways. For example, a fleet needs to work with cleaning oil and road grime. For a farm, perhaps the detergent and sanitizing is the most critical factor. For construction, importance might be placed on a mix of high-pressure and hot water. SafeWash has helped many different companies throughout New Jersey, especially Kearny, Newark, and Elizabeth, NJ, with finding the right Kärcher power washer for their job.
Hot Water Power Washers in NJ
Faster work with short drying times. An excellent option for when equipment needs to be used again quickly or resources, such as time, is short supply.
Germ fighting. Get the results usually only found when using detergents to save time, money, and detergent runoff.
Sensitive surface protection. Thorough cleaning without high power or detergents.
Cold Water Power Washers in NJ
Location friendly. Compact and easy to transport up flights of stairs, inside buildings, and more.
No electricity needed. Go wherever the job is – in a quarry, on the road, at the construction site – with the power of gas or diesel.
Customized to your industry. Get the power designed for your exact business, industry, and jobs.
Kärcher Commercial Power Washers in New Jersey
New Jersey is a yin-yang of different personalities. For example, New Jersey is the fourth-smallest state but is the most densely populated as it's the 11th most populous. Also, New Jersey has every type of living area, from agricultural and rural to the busy city and industrial regions.