If you have ever used home cleaning products and then used industrial cleaning supplies, you have likely discovered that the industrial cleaning supplies are the superior cleaners in New York City, Queens, Brooklyn, Medford, Mt. Vernon, and the surrounding areas. This isn't to say that home cleaning supplies are a bad deal, but you likely don't have industrial messes at your home either. At A-1 Hydro, Inc. / Safe Wash Technologies, we can help you to get the right industrial cleaning supplies for whatever messes you may have. Contact us today to learn more.
What Makes Them Different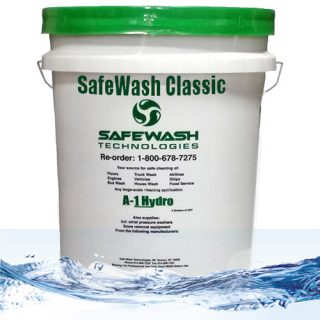 At first glance you will notice that industrial cleaning supplies are more expensive than their home-use versions, even when you break it down to an ounce-by-ounce basis. This is because industrial cleaning supplies tend to have a more concentrated form of the same cleaners that are used in homes. However, just because they contain a more concentrated form of the cleaner doesn't mean they are more toxic.
Because industrial cleaning supplies are used very regularly, often daily, they need to be safe for regular use. Also, some industrial cleaning supplies are designed to be used with a specific machine, and these machines are only used in an industrial or commercial setting. Between these two factors, it makes sense why industrial cleaning supplies are different from other home-use cleaning supplies.
Common Applications of Our Industrial Cleaning Supplies
Our SafeWash Classic has proven itself to be a universal cleaner that is used in a wide range of applications. This industrial cleaning supply is a great general purpose cleaner that has been used to clean fleet vehicles, from cars to large trucks and more. It has also been used for cleaning aircraft, wheels, undercarriages, and any other cleaning needs that call for a general purpose cleaner.
Like all of our other industrial cleaning supplies, our SafeWash Classic wash is environmentally friendly as well as being economical for daily use. Our Magic Clean cleaner is perfect for use in floor scrubbers as it helps to clean up concrete floors from whatever gets tracked into the building. This is a cleaner as well as a degreaser.
No matter the situation that you have in your commercial or industrial setting in New York City, Queens, Brooklyn, Medford, Mt. Vernon, and the surrounding areas, we have the right industrial cleaning supplies to make quick work of things. Call our team today and let them know what you need cleaned, and they can recommend one of our many options.