Industrial Cleaner for NYC Businesses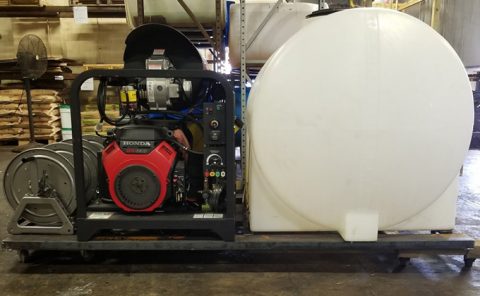 Your business is your way of life, and you need to keep things clean, organized and ready for customers. It doesn't matter what business you have in New York City, because Safe Wash Tech has the right cleaning supplies for you. No matter if you operate a restaurant, corner store, landscaping, road repair, garbage hauling or any other business, Safe Wash Tech has the cleaning agent that's perfect for your application.
Commercial Power Washers and Industrial Cleaners in New York City
Safe Wash Tech has the equipment and cleaners to tackle the toughest jobs. No matter how greasy, grimey or stinky the area is you have to clean, using one of the specially designed cleaners with a power washer will make it squeaky clean and pleasant. If they can make a garbage truck look like new, they can have your sidewalks and building sparkle. And a clean storefront or clean vehicles make people take notice and want to do business with you. There are a variety of commercial pressure washers for different applications, so you can have the right equipment, coupled with the right cleaner, to make the job fast and easy. Indoor, outdoor, carpet, vinyl, ceramic, concrete – no matter the surface, we have a cleaner for you.
Industrial Cleaner in New York City
Safe Wash Tech has the largest variety of industrial cleaners to address all of your cleaning needs. Whether you need to keep your sidewalks clean, you have road tar to remove from your trucks and trailers, your kitchen needs degreasing as well as cleaning, or your dumpsters and trucks needing both cleaning and deodorizing, Safe Wash Tech has the right cleaner for your business. All of these cleaners are environmentally safe and biodegradable, so you can be confident that you aren't contributing to any further damage. New York City is one of the most popular places on earth to visit and live. It boasts a population of more than 8.3 million people and a seemingly unending list of activities and sights that could keep you going 24 hours a day. When the sights and sounds of the big city become a little too much, you can escape into Central Park and be surrounded by acres of nature to relax and unwind. Or rise above it all by going to one of several observation points throughout Manhattan to get a bird's eye view of the city that never sleeps.