When you've got a big, dirty cleaning job in Brooklyn, Medford, Westchester, Bronx, NYC, Kearny, or the surrounding areas, do you have the right cleaners to make quick work of things? The team at A-1 Hydro. / Safe Wash Technologies definitely has the right industrial cleaners for whatever kind of cleaning you need to do. From sticky and stinky to greasy and grimy, as well as everything in between, A-1 Hydro. / Safe Wash Technologies has industrial cleaners that will cut through the dirt and get your vehicles and other equipment looking brand new. Contact us today to order your industrial cleaners.
Start With Their Classic Industrial Cleaner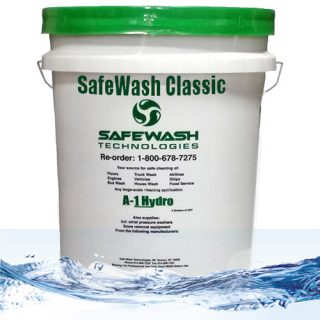 With more than 50 years in the cleaning industry, they've perfected their standard industrial cleaner and now offer it to you. SafeWash Classic is our signature formula and cuts through oil and grime while emitting no noxious odors. That means that you can safely and effectively work in confined spaces without worrying about choking or having difficulty breathing.
Our Magic Clean industrial cleaner is perfect for when you have a lot of petroleum-based grime on your equipment and vehicles. It will be your answer to tough grease and oil-based build-up since it has superior penetration of oil-based particulates. It has high-performance chemistry to help clean up your worst grease and oil-covered items.
If you have garbage trucks or dumpsters to take care of, you know how odorous they can become. By using our TrashX 24 industrial cleaning product you will notice a dramatic reduction in the bad odors and instead are left with something that is pleasant. Our specialized detergent helps deodorize especially trashy places, making your garbage areas more palatable.
If you take care of a fleet of vehicles, from cars and trucks to train cars and buses, then you want our XPO Fleet Wash industrial cleaning product. This special formula contains gentle but extremely effective compounds that are safe enough for any finish.
Why Else Choose Our Industrial Cleaners
We all want to have our equipment clean, but we also know that we need to be aware of what we are putting down our drains. That's why no matter which industrial cleaner that you choose for your needs in Brooklyn, Medford, Westchester, Bronx, NYC, Kearny, or the surrounding areas you can count on them being environmentally friendly. Get your hands on some of the best industrial cleaners around by contacting A-1 Hydro. / Safe Wash Technologies today.