Commercial Electric Heaters in Middletown, NY
The weather in Middletown, NY can get quite cold, even downright freezing in the winter.  The temperature outside can also be chilly in the spring and fall months of the year.  If you manage a business in the Middletown area where your team is exposed to the cooler temperatures, you should consider commercial electric heaters.  When the temperature drops, commercial electric heaters are the solution to keep your team protected from the cold.
Warehouse Heaters and Other Commercial Electric Heaters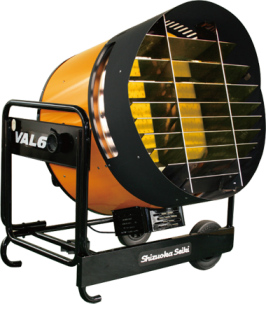 Commercial electric heaters and warehouse heaters are ideal for keeping your team comfortable and warm in many workplace environments.  In addition to warehouses and storage facilities, electric heaters are used in many other areas as well.  They are used to warm shipping and receiving areas, processing plants, industrial work yards, car service and repair shops.  When a work area is warmed with a warehouse heater or other commercial electric heaters, the team is more comfortable and productive as they can work under pleasant conditions.
The type of warehouse heater or electric commercial heater that will work best for your environment depends on several factors specific to the space you would like to warm.  A few of the factors that need to be considered are the size of the space, placement location, installation height, and air flow clearance.  Heaters need to be strategically placed in the space so the warmed air is dispersed throughout, providing optimum coverage. The air flow clearance is important, as there needs to be an unobstructed path for the air to circulate.  There also needs to be plenty of clearance from anything that could be combustible or heat sensitive.
Commercial Electric Heater for Your Middletown Business
SafeWash Technologies is proud to be providing Middletown businesses with commercial electric heaters.  We love our community and are happy to serve the small, medium and large size companies throughout the Middletown area.  Middletown is situated in the Hudson Valley, near the Shawangunk Mountains, between the Hudson and Delaware Rivers.  There are breweries, farmers markets and a county fair to enjoy.  In the downtown area, there are many quaint shops, Victorian homes and historic buildings.  Along with all of the charm and character, Middletown has cooler temperatures many months of the year.  With the cold weather Middletown can encounter, a commercial electric heater is an important asset, especially if you have a business that has a warehouse or is involved in the construction industry.